I've been watching all this shit storm swirling around all the rich parents paying people to get their entitled dumb children into college.
I find it amazing how these people behave. Because they are only reporting the 2 actresses on TV those are the only 2 I can comment on. But something tells me that the other entitled rich white folk with dumb kids will behave the same.
Let's start with Felicity Huffman. She admitted what she did, apologized to everyone as you can see below. She also walks into the courtroom looking embarrassed with her attorney. And says nothing else. Now that is behaving properly in my opinion only. Even if she has no guilt she is not showing up waving to the crowd like this is a big event. Here is her apology if you haven't already seen it.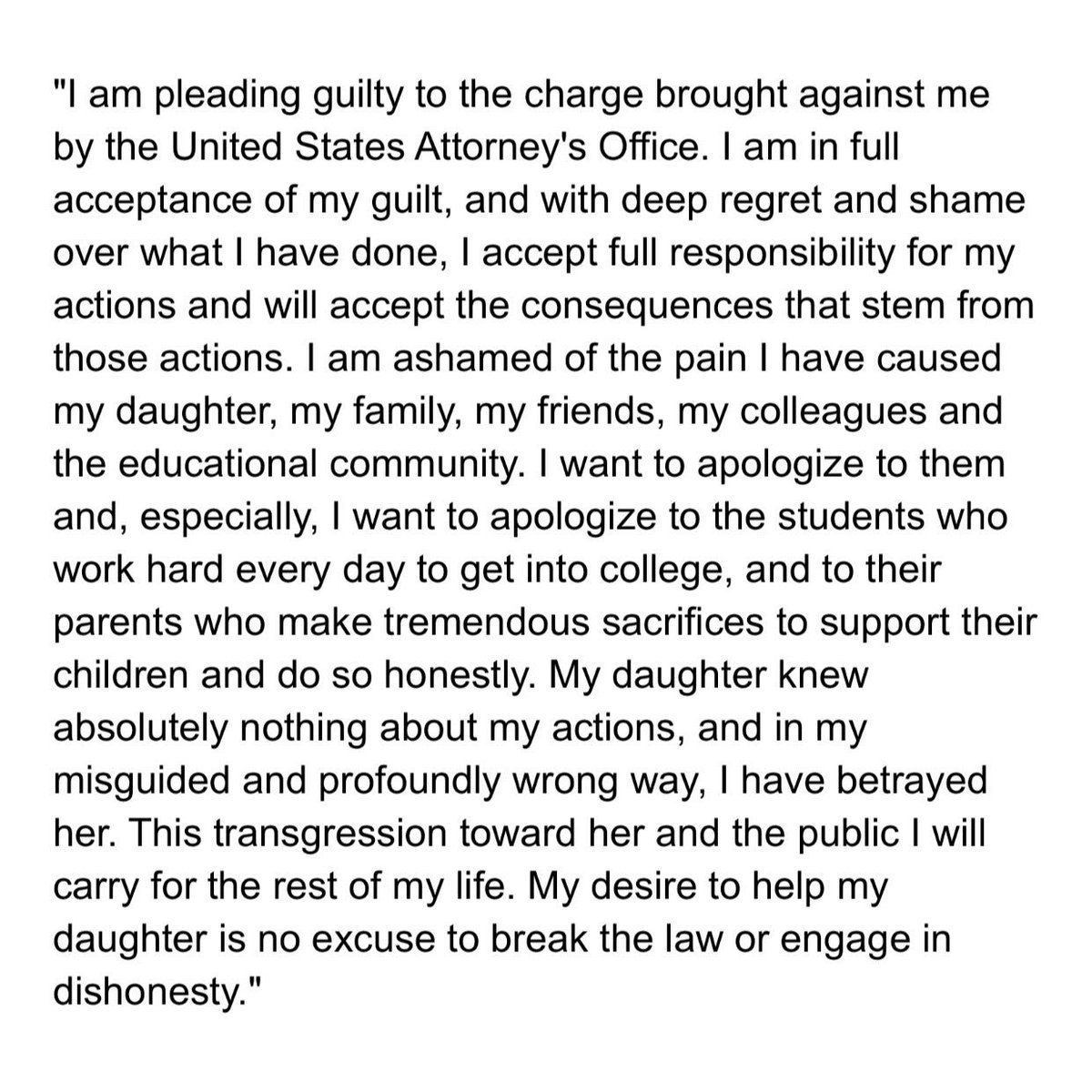 As I have said before. Most parents want to help their kid and those with some funds get tutors to assist with their grades, working with them for their SATs etc.
Most parents first thoughts aren't gee, how much can we pay to get them what we want for them? Would more do this if they had the money? God knows my parents wouldn't have even with the money. I know that as sure as I am sitting here typing this. It actually makes me giggle. There is just no way my father would give us much and he had the money. We always had to work for it. Sometimes we got help, but we had to show we were working for it. I think I wrote her about the time I told him I knew he could afford it. He said he could but I couldn't so I better save my money. Yep, he was always making us learn a lesson and I hated him for it until I was in my 20's. 😊
To the flip side is Lori Laughlin. She flipped her coat over her shoulder and gave an over the shoulder pose for the paparazzi. Rick was with me when we saw this on TV and he said, Oh my God she has no clue, does she?
She then waved to the crowd, signed autographs and then waved as she walked into the courthouse. Does she even know this isn't an award show? You're an actor, act like you are contrite.
Her daughter tweets the most disgusting entitled things that I would love to slap the makeup right off her face.
I would be so ashamed if this was my child!
The "Youtube star" is upset that her advertisers have dropped her but she tweeted recently that she got some back and will be back to number 1 once the dust settles. Nice. Clueless just like her mother. The apple didn't fall far from the tree. They laugh and they smile like this is publicity and any publicity is better than none you know!
In Lori's defense perhaps she feels acting like nothing is wrong is her public face and she has to do this. She can't be real, only a public face for the cameras. Then again, she could just be clueless to the real world.
I honestly feel that an adult should know that this behavior if seen by the judge, could certainly impact her as well as the court of opinion.
So on so many levels she just seems clueless to me.
I also don't think either of them will get jail time. But I wish they would. Especially Loughlin who's list of offenses is a mile long compared to Huffman.
I don't think Huffman got mail fraud and money laundering but I could be wrong.
I have not seen their complete list of offenses.
Ah, rich white people. Amazing aren't they?