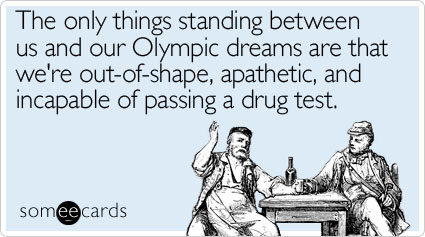 Yes I have Olympic fever! But sadly the above is more me than an athlete.
I even watched more of the Olympics last night than the depressing Yankee/Oriole game.
I loved the synchonize diving.
I felt so badly for the men's gymnastic team.
Major flubs and the pain on their faces broke my heart.
Tonight the women's gymnastic team is on and I will be glued to my set.
I just love the summer olympics so much more than the winter.
Love, Love, LOVE the female gymnastics portion of the Olympics!
Truth be told I don't care for volleyball or the bike riding.
Anything more boring than watching someone ride a bike?
Rick was all disappointed that the weather had turned cold and the women volley ball players couldn't wear their bikini's.
He was watching them the other day and I hear him yell, "eat a potato" to the television.
Apparently on some country that was not the USA team Rick thought the woman was too skinny. Rick said he could snap her like a twig.
God that man makes me giggle.
I wasn't watching it but I heard Rick's color commentary.
I told him that Bob Costas has nothing to worry about.
Rick wouldn't be stealing his job by yelling at the skinny chicks to eat a potato!
In other news.....
I am excited because I think I made a friend.
I have no real friends here. Lots of acquaintances.
When we moved here I worked in Manhattan and worked from home 1 or 2 days a week.
Don't meet a lot of people that way.
Neighbors who have become real friends have since moved to another state. (gee is it me?)
Most of my work friends I have had for over 20 years and they all live everywhere in the U.S.A.
So while I have acquaintances here it's not the same.
You women out there know that you need a real friend to go shopping with you.
You need a real friend to say, "your ass looks bigger in those pants - you can't buy them!"
Anyway we saw new people move in a block away when we were walking the dog.
They said hello and we said our polite hello's.
A few days later I saw their license plate said Pennsylvania.
So I asked, "Where are you from in PA? I'm from PA too."
That started an animated conversation and boy I liked this woman.
(That doesn't happen often)
Fast forward to standing outside getting eaten alive by mosquito's an hour later.
I walked home and said to Rick, "I met someone I really like!"
He laughed and said, "made yourself a little friend did ya?"
Okay snicker all you want funny boy.
Yesterday afternoon Lisa called me at the office and said, "wanna have some wine after work?" "Gee no I don't drink!" There was a silence on the phone. I realized I probably shouldn't mess with a new friend huh? "Of course !"I told her. She told me she'd bring a bottle and come on down about 6:30p.
I opened the door and there she stood with no wine and all dressed up in her work clothes.
She came in and bitched about having to work and then mid-sentence looked around and said, "OMG your home is so much nicer than mine!"
You see we have the same exact model townhome.
I laughed and said, "You just moved in give it time."
She took off her shoes and headed down the hall and looked, touched and opened everything.
I was walking behind her a bit shocked and laughing.
Where did you get this? Was this built in? Was this an add on? I love the molding.
Stuff like that.
All I kept saying was, No my husband made it.
No my husband built it.
No my husband just did this and this to make it look better.
No my husband added that, it was easy.
She wanted to know if Rick could go home with her.
"Be my guest – he's yours for a week – but I'll warn you he's very expensive to feed."
In the mean time Rick is sitting on the sofa hearing this.
He yelled – "Hey hey! I'm not a piece of meat woman!"
She said, "But I don't cook "
He yelled – "then I'm not coming over!"
She yelled back that her husband cooks –
Rick yelled, "Alright when do you need me to start?"
I forget sometimes how lucky I am that he loves to do this shit.
She reminded me of that last night.
She liked my patio table too – that made us both burst out laughing.
She looked at us like we were nuts.
But we didn't even tell her!!
So after she touched everything on my first floor she left to go to work.
She's coming back Friday.
I think I'll make a pizza on the grill with an antipasto (mainly for me who can't eat pizza) and drink a lot of wine.
I'm like a little school kid so excited to have a playmate (drink mate in my case).
Pathetic really isn't it?
At least maybe now I won't beg Rick to go shopping with me.
For that he will be thankful.
If she ends up being a gun toting, religious rhetoric, hateful right wing nut I'm screwed.
But I don't think my radar could be that off could it?
Stay tuned.